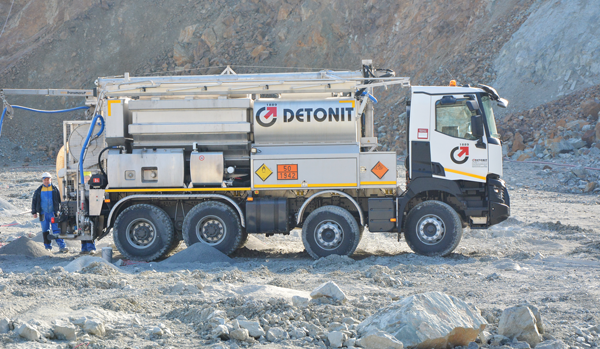 Emulsion explosives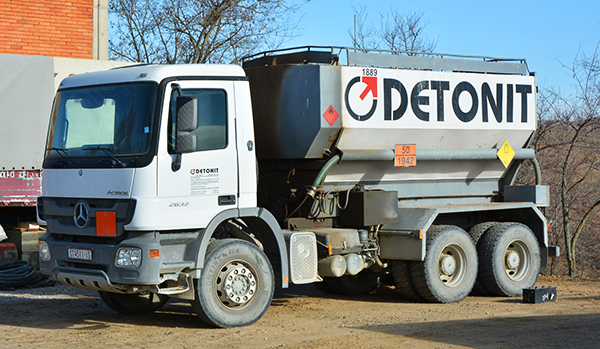 Watergel-Slurry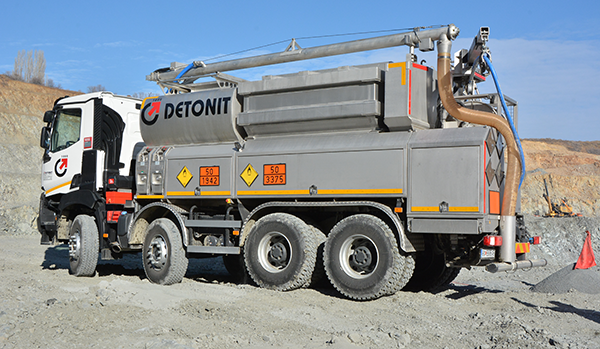 Heavy anfo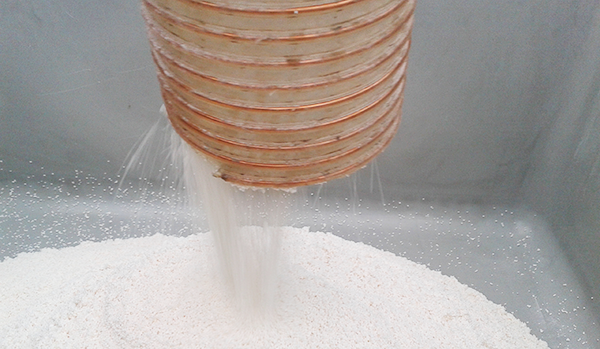 ANFO
Emulsion explosives

Detolit is pumpable emulsion explosive, used for mass blasting in open pits. Flexibility of its content and possible presence of metal powder enables its effective application in soft, medium hard and very hard rocks. Detolite contains no explosive components. Mixing of the components to get an explosive mixture is done during the process of loading the boreholes. Density is regulated with chemical gasification. It is initiated with boosters from the bottom of boreholes.

Watergel-Slurry

Majdanit 10, 15 and 20 are explosives made at the site of blasting. They are oxygen balanced mixtures of aqueous solution of ammonium nitrate and non-explosive fuel substances, as well as additives with the purpose of stabilization and plastification. Mixing of the fuel and oxidant to get an explosive mixture is done during the process of loading the boreholes. That is done in the SLURRY vehicle. In this system, there is a possibility of loading boreholes with mixtures of different energy without stopping. Majdanit gets full detonation capability only when they are in a borehole, where they reach the diameter of the borehole and the density which ensures stable detonation. Strong initiation impulse is needed for initiation, and it is obtained by boosters or similar brisance explosives with high detonation pressure. The power of MAJDANIT can be adjusted depending on the situation and the rock. That gives us an opportunity to pump majdanit with higher energy at the bottom of the borehole to the desired height, and then to automatically continue pumping the explosive with lower energy to the upper part of the borehole. Water-resistance of Majdanit is excellent. Pillar of the pressed water becomes the water plug of the borehole.

Heavy anfo

Detolit HA and PE is a series of heavy anfo emulsions, specially formulated with a mixture of emulsion matrix and anfo explosive, which is made of porous ammonium nitrate and designed for use in damp or dry boreholes of medium to large diameter.
The product is delivered by state-of-the-art vehicle which enables on the spot the production. Working environment and presence of water in boreholes determine which composition will be used. Vehicle capacity is 8000 kg of emulsion matrix and 3500 kg of ammonium nitrate. Other additives are also needed and they are transported in small quantities. This way of transport enables safe transport since the components themselves are not explosive. Boreholes loading velocity is 80-150 kg/min, depending on the product. Apart from the product quality, advantage of this kind of production is compete- 100% borehole loading, so there is no need for the storage of the explosive at the site of its use.
Detolit is a booster-sensitive explosive and it should be initiated with a minimum of 450 g of cast booster. An additional booster of 450g should be used if borehole height is greater than 10 m or if there is a danger of disruption in pillar loading. Detolit HA and PE mixtures can be detonated at depths of 70 m.

Labels of danger during transport:
Class: 5.1
UN3375
Ammonium nitrate emulsion
After pumping into the borehole:
Class: 1.5D
UNO332
Explosive, Blasting, Type E


ANFO

ANOL-ANFO is an explosive mixture for mechanized loading which is made at the site of use. It is practically a two-component system that consists of porous ammonium nitrate and fuel oil. ANFO vehicle transports both components (AN and fuel oil) in separate bunkers to the blasting site, where components are mixed to get ANFO mixture. The mixture is then pneumatically put into the boreholes of large diameter. Because of its simple content it is one of the safest explosives for production, transport and handling. The mixture has balanced oxygen balance and it decomposes in such a way that there are no toxic gases in explosion. Bulk completely fills the borehole, so the explosive energy is more efficient and it has a better impact on the blasting effects. Blasting performances of Anfo are enhanced by using the right initiator, which ensures the maximum detonation velocity with complete energy transfer. It cannot be used for blasting in boreholes with water and in mines where methane and explosive coal dust can appear. It can be initiated with boosters or other primary explosives.