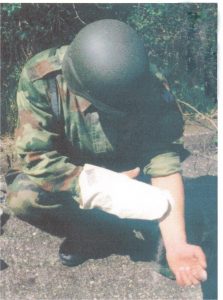 The LPD M-3 personal decontamination set is intended for efficient chemical decontamination of bare body parts, clothing equipment and weapons.
The set takes a form of a special fingerless glove made of rubberized net fabric padded with powdered clay at one side and a soft fabric at the other.
It is packaged in a waterproof bag of Al foil covered with polyethylene and having a short instructions for use.
It is simply discarded when used once.
Toxic agents of yperite, soman and VX kind are absorbed and adsorbed by powered clay.
– Dimensions: 170mm x 120mm x 35mm
– Mass, LPD-M3: approx. 150g
– Clay mass: approx. 100g
– Fabric a glove is made of is permeable, it allows dropping out 90g of clay at least during decontamination in 10 minutes period.
– Time to prepare set for use: max 1 min.