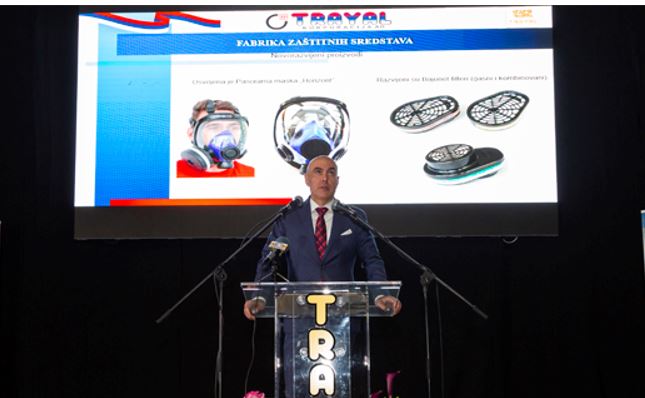 St. Vitus Day Award, which is the highest award presented
by the City of Kruševac on the occasion of St. Vitus Day, has been given to Mr. Milos Nenezic, President of the Serbian Association of Employers and General Manager of Trayal Corporation, for exceptional results in work and creativity.
As a prominent businessman and holder of responsible positions in Kruševac, Miloš Nenezić has been awarded in recognition of exceptional results in the field of economy, sports and for his contribution to the development of the city.
It is stated that Milos Nenezic has been a longtime businessman with great business results and a real example of how to improve the business environment. It is also stated that by engaging in the Association of Employers as its President, then in the Chamber of Commerce as President of the Assembly, as well as being a permanent member of the Economic and Social Council of the Republic of Serbia, he contributed to the improvement of the economic environment in Serbia. It has been pointed out that as General Manager of Trayal Corporation, he "reanimated and revitalized it twice, thus preventing it from bankruptcy both times".
"Today, Trayal is the largest collective in the Rasina District with 1,275 workers, four factories, and a tradition of 133 years. In March of this year, the company handed 153 work contracts to the new employees, for the first time in 30 years the company does not have any mortgages, pledges, loans or outstanding debts, and the previous business year ended in a historic sales result of more than 50 million euros", said Ms. Jasmina Trajković, President of the Commission for Human Resources Administration of Krusevac.
Mr. Nenezić is also involved with changes in the education system as one of the first advocates of dual education and the creation of educational profiles in accordance with the needs of the economy. He has also contributed to sports and, as the President of FC Napredak, he has contributed to raising the reputation of the Club, while FC "Trayal" has become stable in the First League, and Karate Club Kruševac has won numerous medals at the European and world level.
In addition to St. Vitus Day Awards, five plaques and fifteen St. Vitus Day commendation medals have been awarded.